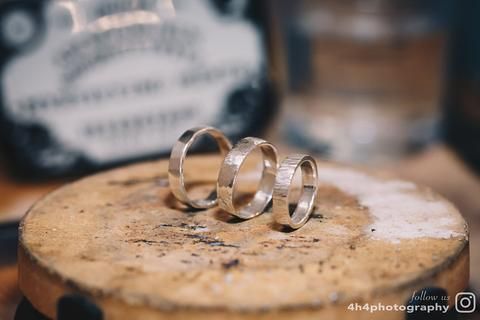 Learn how to make a sterling silver ring from scratch. Start off by marking your silver to the length you require by choosing which finger you would like it on. Then, you'll use a handsaw to cut it to size. Next, you'll learn how to form the ring, using a mallet to shape it to the ring mandrel. You'll watch as it is soldered in front of you by an expert tutor—all the time she will explain exactly what she is doing. Then you'll learn to file it by using different hand files—this is fun, as it is when you get to individualize your ring, deciding what curve you would like it to have. This can make a great difference to the end result. Next, you'll choose from three very different textures. You get to use your creativity with the planishing hammer to achieve the texture you require. People love this part as it's when you make your ring truly individual. Finally, you get to choose your polish. Some people like it polished only on the inside, to give it an artistic/rustic look. Others like the glittery sparkle of a fully polished ring. It's your decision. Then the best bit—you get to keep your ring! It's the ultimate souvenir for remembering your trip to Ireland. Enjoy!
Aktivity
Lokalita
24 Drury St, Dublin, D02 V658, Ireland
Recenzie
(0)
Overený záznam
Tento organizátor bol schválený tímom Spotimist. Rezervujte si mieto teraz!